Radford High School
Class Of 1977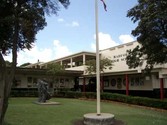 Message Forum
10/25/12 04:27 PM
#13

Pictures are posted on my profile from the get together at Rori's home on Oct 6, 2012.
12/17/15 04:13 AM
#14

Aloha Classmates!

Happiest of Holidays to you and your ohana!

Kehau aka LeeAnn K. Canne
09/15/16 02:55 AM
#15

Reunion and 40 years! I wish everyone a great time.

Eliseo (Ellie) Dungca
05/18/17 08:17 AM
#16

OK, Folks. It's great to catch up with all my Radford friends online. However, nothing beats getting together face-to-face...and that's exactly what our upcoming reunion (Class of '77 in Vegas in early September) is all about.

If you're like me, and you plan to attend but haven't signed up yet; please sign up ASAP. I've been messaging Iris Linogon Kikuchi (who is kind enough to arrange our reunion), and as of now, there are only about 40 people signed up. We had a huge class, so please help get the word out to anyone who hasn't RSVPd yet, or who might not know about the reunion.

Our 40th Reunion will only happen once, so let's not miss the opportunity to get all the Rams back together (friends from several other classes, 1975-1980 are also invited to attend), and have a great weekend in Vegas...catching up and remembering old times (while we still can).

See Iris Linogon Kikuchi's posts in the Radford and Radford '77 groups on Facebook for more info and to know how to respond. If nothing else, post a question here and I'm sure you'll get all the info you need about the Reunion.

Looking forward to catching up with everyone in September!

-Gene.
05/22/17 02:26 PM
#17

I never thought it would be possible to attend a class reunion since I graduated in Hawaii! Iris has made my dream come true. My best friend lived in Hawaii over 11 years and she graduated from Moanalua. We knew each other through Pearl Harbor Baptist Church.

I have bought my plane tickets, made reservations at the hotel and am planning to send Iris a check tomorrow. I plan on using UBER once I am there to attend the Caribbean Coctail Party at Bahama Breeze! Then on Saturday, we will be chauffered to the Dinner Buffet at Flamingo Banquet Hall.

There is going to be so much fun! It's VEGAS! I've never been but I've seen movies.....
06/26/17 06:08 PM
#18

Aloha RHS Class of 77 classmates!

40th Reunion registrations are coming in fast and furious!!! For those that can't make it...so sorry, altho the rest of you... are you coming??? snooze you loose!!! lol... can't wait to catch up with y'all real soon!!!
08/09/17 09:44 PM
#19

Huge mahalo to Iris and Pat for keeping the extended ohana and aloha going both on the mainland and in the islands for class of '77. I know how laborious it is to research and produce an event like this, (which is why I flamed out fast after the 10th and 20th I think!) so am eager to see fresh faces for the 40th and catch up on a coupla decades... Just booked my flight and see that we're now at the Westin for Sat. night so am hubbing there too. Looking forward to reflecting on hugs and happiness from a simpler time...See you soon! :) --Amy J.
08/10/17 05:28 AM
#20

Aloha Classmates,

Note: only 8 more days to register for the 40th class reunion!!! DEADLINE is Friday August 18, 2017...

Hope to see you in Vegas!!!
08/10/17 06:34 AM
#21

Hey Amy,

I, too, stepped out of the reunion planning. This time, it was Iris who put in all the hours. Glad you are coming, looking forward to seeing you.

Pat
08/10/17 08:45 AM
#22

so I did my turn.. who's NEXT??? lol.. :-)
10/11/17 12:11 PM
#23

Take care.
James
10/12/17 09:24 AM
#24

Aloha James!

Great that you are updating your info... 40th Reunion was a BLAST! Everyone had a GREAT time and looking forward to the next one, 45th or 50th!?

Anyway, keep in touch! Aloha!
02/01/19 05:27 PM
#25

Aloha! I was only at Radford for the 1st year then my family left Hickam AFB. Anyway, I see there is a 60th Birthday celebration in the works. I will try to make that, but in the meantime, I am returning to Ohau/Walkiki/Ewa Beach the first week of March, 2-9, 2019. Would love to connect with friends if at all possible. Sharon, Iris, LeeAnn, Melisa, Rorie, and others
02/05/19 11:34 AM
#26

Aloha Monica! Wish I was there...would love to see you again but I am still on the East Coast!

A hui hou,

L. Kehaulani Canne
04/28/19 11:50 AM
#27

Aloha 77 Classmates!

Time is flying by and only 1 month until we meet for our 60th birthday reunion!!! Remember to register under the reunion event tab so we know you are coming! Come join us for a great time to hang loose🤙 and catch up with classmates from RHS... see you all there real soon!

Mahalo!😎🍍🍹
05/01/20 03:45 PM
#28

Not sure if anyone is looking at this anymore, but I am sending this message with great saddness - Clifford Chong recently passed away due to natural causes. He was living in New Jersey, still a bachelor. His family will be holding a celebration of life later this year, once the we can gather in larger groups again. Clifford was a good friend and the best man at my wedding over 21 years ago. May he rest in peace.
05/02/20 10:58 AM
#29

I'm so sorry to hear that Erik. I remember him well and am saddened to hear he passed. If you send me details, I can add him to the "In Memory" page as well as the class FB page. Maybe include a photo from your wedding as well that he was in? My email is pbreault808@gmail.com.

Thanks for letting us all know and yes, there are a lot of us still following this website.

Aloha,

Pat Breault
05/02/20 06:05 PM
#31

Sorry to hear about Clifford...my condolences to you and his ohana..RIP.
05/03/20 07:05 AM
#32

Rest eternal grant him, and let light perpetual shine upon him.
05/03/20 11:25 AM
#33

I Remember Clifford from the Interact club. Nice guy. Even as I grow older my classmates will be forever young in my memories.

05/03/20 01:05 PM
#34

So sad to hear of Clifford's passing. I remember him as a studious fellow classmate. My prayers and condolences go out to his family and friends and wish him eternal peace.
05/03/20 03:04 PM
#35

I remember Clifford as smart, soft-spoken and hard-working. Sad to hear of his passing. Thank you for letting us know, Erik. So sorry for your loss of a good friend.
05/03/20 07:54 PM
#36

So sorry to hear of this loss. I just picture Clifford in his aloha shirts, laughing with you, Erik, and the warmth and ease of how you two connected...like there was always some inside joke we weren't privy to; likely smart, reserved w/a little wry wit...
05/04/20 12:17 PM
#37

Saddened by this loss to the Radford Ohana...Clifford was always a cheerful presence during my years at RHS.