Radford High School
Class Of 1977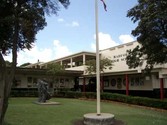 Classmates and Guests, Welcome to the Radford High School Class of 1977
Friends and Guests,
Now you can become a guest of our class and can register, contact others, and receive notifications for reunions, etc, etc. Just click on Classmate Profiles on the top left of the this page, then go to the very, very bottom of the classmate list page. Where it says contact us, click on that and send your info. I will then add your name to our guest list and send you an invitation to join our site. Best of all, it's free!
ANNOUNCEMENTS
Aloha Classmates!
Unfortunately, due to the very low attendance, we have decided to cancel the 45th class reunion. My apologies to you all who responded on time although we didn't get the numbers we need for the venue.
It was a hard decision to make, although with the small response, it wasn't feasible to have a reunion at this time. Hopefully we get a better turnout for the 50th reunion in Hawaii in 2027. We will start planning that a couple years in advance, which gives classmates time to save up for the trip and that reunion promises to be EPIC!!! I welcome any suggestions or ideas going forward.
Mahalo and take care!