Radford High School
Class Of 1977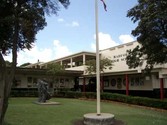 Classmates and Guests, Welcome to the Radford High School Class of 1977
Friends and Guests,
Now you can become a guest of our class and can register, contact others, and receive notifications for reunions, etc, etc. Just click on Classmate Profiles on the top left of the this page, then go to the very, very bottom of the classmate list page. Where it says contact us, click on that and send your info. I will then add your name to our guest list and send you an invitation to join our site. Best of all, it's free!
ANNOUNCEMENTS
Aloha Classmates!
Just a friendly reminder to complete and submit the 45th Class Reunion Survey listed on the left side of page under Home Page. Just three simple questions. We are trying to narrow down a place and your kokua is needed.
Much Mahalo!
Aloha Classmates!

Just a reminder - "SAVE THE DATE" for the 45th 1977 Class Reunion on Fri-Sat October 14-15, 2022. We are in the planning stages and need everyone to respond to the questions, so we know how many of you to expect, if you will need hotel accomodations and if you want extra activities planned for the event.

Tentatively, it will be a 2-day event with a "MEET & GREET" social hour on the evening of FRIDAY OCT 14 and DINNER at a Restaurant/Hotel Ballroom on SATURDAY OCT 15.

For this reunion to be successful, we need everyone to encourage other classmates to register on our website and keep your email address current. We have a Radford Class of 1977 Facebook page so connect to that social media, as we will post updates periodically.

We still need volunteers, so NO BE SHAME, and email me if you can KOKUA at irisk59@yahoo.com.

Mahalo!

Iris (Linogon) Kikuchi


You must be logged in to submit this survey. Please use the login box in the upper right corner.


1)
* I will be attending the reunion.

Yes No
2)
I will need hotel accomodations.

Yes No
3)
I will participate in pre-planned FUN activities.

Yes No
Aloha Classmates!
Our 45th class reunion is confirmed. The cost is $150 per person which includes,
- Meet 'N Greet Social Hour – Friday October 14, 2022 @ 5:00-9:00pm @ Bahama Breeze Restaurant, 375 Hughes Center Dr, Las Vegas NV 89169, Bahamian Island Buffet, No Host Bar
- Back to the 70's Dinner Event – Saturday October 15, 2022 @ 6:00-10:00pm @ The Orleans Hotel, 4500 W Tropicana Ave, Las Vegas NV 89103, St Charles Ballroom 2nd Floor Kamehameha Dinner Buffet, No Host Bar, 70s Attire is encouraged.
A limited number of hotel rooms are blocked for us at The Orleans Hotel available at VIP rates per single or double occupancy per night. Triple occupancy adds $20 per night or Quad occupancy add $40 per night plus room tax at 13% and a mandatory resort fee $34.99 per room, per day, plus tax.
DATES: Thu 10/13 $49, Fri 10/14 $99, Sat 10/15 $99, Sun 10/16 $49
If you are planning to stay additional nights before or after these dates, the hotel will work with you on daily rates. A special CODE is needed to reserve rooms and that CODE will be posted soon. Deadline to make reservations at this special rate is September 22, 2022. More Information to follow.
Time is of the essence as we are only 2 months away from this great event! For us to lock down the restaurant and the hotel ballroom, the deadline to register and make payment to confirm that you are attending is Friday August 19, 2022. Payments can be mailed to: Iris Kikuchi, 5884 Whispering Sands Dr, Las Vegas NV 89131 OR send payments via Venmo or Zelle. Please be sure to add: RHS 45th Reunion on all transactions, including in the memo if mailing a check. After payment is received, a confirmation will be sent via email or text. My cell is (702) 480-1931 or email irisk59@yahoo.com Mahalo!