Radford High School
Class Of 1977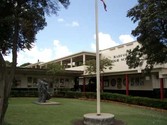 Classmates and Guests, Welcome to the Radford High School Class of 1977
Friends and Guests,
Now you can become a guest of our class and can register, contact others, and receive notifications for reunions, etc, etc. Just click on Classmate Profiles on the top left of the this page, then go to the very, very bottom of the classmate list page. Where it says contact us, click on that and send your info. I will then add your name to our guest list and send you an invitation to join our site. Best of all, it's free!
ANNOUNCEMENTS
WE'RE INVITED AND IT'S ONLY A MONTH AWAY!
Class of 1976 is having their 40th Anniversary Class Reunion October 27 to October 30 on Oahu and they have extended an invitation for us to join in their festivities and events.
Schedule of Events
October 27, Thursday No host cocktail party, 7 PM, Shorebird, Outrigger Reef
October 28, Friday 9 AM Golf, Coral Creek Golf Course, $46 Kama'aina, $90 others
7 PM, Waikiki Fireworks Cruise, Maita'i Catamaran, Waikiki, $40
October 29, Saturday 40th Reunion Dinner in the Banyan Room, Hale Koa Hotel, Cocktails 6:00 - 7:00, Buffet 7:00 - 8:30, Pacific Rim Buffet $63
October 30, Sunday Family Picnic at Bellows, Pavillion 5B, 11:00 AM., Lunch at 12:30 PM, $16 for adults, $10 for kids under 13
For additional information go to Class of 1976 website http://www.radford1976.com/
Class of 1977: Grab a classmate and enjoy the festivities being offered by Class of 1976!