Radford High School
Class Of 1977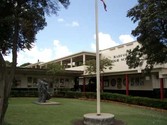 Classmates and Guests, Welcome to the Radford High School Class of 1977
Friends and Guests,
Now you can become a guest of our class and can register, contact others, and receive notifications for reunions, etc, etc. Just click on Classmate Profiles on the top left of the this page, then go to the very, very bottom of the classmate list page. Where it says contact us, click on that and send your info. I will then add your name to our guest list and send you an invitation to join our site. Best of all, it's free!
ANNOUNCEMENTS
Our 40th reunion was a blast! It was great reconnecting with old friends and pictures will be posted as soon as the are available. To those that didn't/couldn't make it, we missed you. Iris, Shirlene, Violet, Arnette, and everyone else who put this together and made it happen, thank you!
Hope to see you all at the next one!