Radford High School
Class Of 1977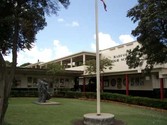 Classmates and Guests, Welcome to the Radford High School Class of 1977
Friends and Guests,
Now you can become a guest of our class and can register, contact others, and receive notifications for reunions, etc, etc. Just click on Classmate Profiles on the top left of the this page, then go to the very, very bottom of the classmate list page. Where it says contact us, click on that and send your info. I will then add your name to our guest list and send you an invitation to join our site. Best of all, it's free!
ANNOUNCEMENTS
Aloha RHS Class of '77 Classmates!
40th Reunion registrations are coming in fast and furious!!! For those that can't make it....so sorry, altho the rest of you...are you coming? Snooze you lose!!! lol...can't wait to catch with y'all reall soon!!!
Iris
Aloha Classmates!

Just a quick reminder that the RHS Class of 77 40th Reunion on Sep 8-9 is approaching fast!!! There are only 3 more months!!!

Please send in your registration forms and payment before the deadline of July 1, 2017, thereafter the prices will go up another $10 per event per person. Classmates are looking forward to seeing each other and having a grand time in Las Vegas NV. Hope to see you there!!!

Email rhsclassof77_40th@yahoo.com if you have any questions... MAHALO!
RADFORD HIGH SCHOOL CLASS OF 1977 - 40th REUNION
"Back to Paradise on the 9th Island" SEP 8 & 9, 2017 – LAS VEGAS NV
Fri Sep 8, 6:00-9:00 pm -
Caribbean Cocktail Party at Bahama Breeze Island Grill, 375 Hughes Center Dr, Las Vegas NV 89109
· Cost $30 per person (early bird payment before July 1, 2017)
Includes buffet of appetizers, private gazebo, live music, No-host bar
Show your class spirit and wear a Commemorative RHS Class of 77 t-shirt
Sat Sep 9, 5:00-10:00 pm –
40th Reunion Banquet Dinner at Flamingo Buffet Hall, 3495 E. Flamingo Rd, Las Vegas NV 89121
· Cost $60 per person (early bird payment before July 1, 2017)
Includes Asian Buffet Dinner and desert, unlimited non-alcoholic drinks (soft drinks, coffee, and tea), DJ and dancing, Photos: candid's and class photo, Cash Bar
Additional Costs/Optional:
· Photo Booth $12 per person – classmates can take serious or silly photos
Photographer will have a mixture of props to use in an open booth, every person in photo will get a 4x6 photo to take home
​· ** RHS 40th Class Reunion commemorative T-shirt:
Men or Ladies $25 S-XL, $32 2X-3X
** Pre-sale reunion t-shirts are being made especially for our event. The ram will be printed on the front pocket of the t-shirt and the reunion info will be printed on the back. Order yours now to wear to our cocktail party on the first night!
PAYMENTS for reunion events, photo booth and t-shirts can be made by one of three ways by sending the total amount to:
1. Pay Pal – RHSClassof77_40th@yahoo.com
2. Venmo - @Iris-Kikuchi
3. Mail a check to: Iris Kikuchi, in the Memo write: RHS Class of 77 40th Reunion
After payment has been made, send an email with the amount or people attending each event, how many t-shirts and sizes, and how many attending photo booth to the class email RHSClassof77_40th@yahoo.com. You will receive a confirmation for your registration and payment within 24-48 hours.
Hotel reservations can be made at the Silverton Hotel, if interested. Be sure to let them know you are reserving for Radford HS Class of 77 Reunion to get their special rates. Airport Shuttles are available upon request by calling the hotel to make your arrangements.
Silverton Hotel & Casino, 3333 Blue Diamond Rd, Las Vegas NV 89139, Ph: 866-722-4608
Radford High School Class of 1977 40th Reunion - Group Hotel Package
Rooms: 2 Queen beds OR 1 King Non-Smoking – Single or Double Occupancy
(Triple or Quads will be surcharged an additional $20 per guest per room, per night)
Sep 7, 2017 Thu - $49.00
Sep 8, 2017 Fri - $89.00
Sep 9, 2017 Sat - $89.00
Sep 10, 2017 Sun- $49.00
Note: Room Tax 13% and Daily Resort Fee $14.99 (includes Wi-fi, Fitness Center, in-room safe, unlimited local & 800 calls, Free parking, Free shuttle service)
· Complimentary Shuttles are provided to all hotel guests: To and From Airport, the Strip (Caesars Palace Forum Shops) and Town Square Shopping Mall – check website for Departure/Arrival times. NOTE: Reservations must be prearranged in advance for airport pick up. Airport shuttle pick up will not be available without reservations.
· Classmates need to call hotel to make your room reservations, sooner the better as we only have a certain amount of rooms set aside for the reunion weekend. Mention RHS Class of 1977 40th Reunion or assigned ID: SRAD917 to get the special package prices. Cut-off date for room reservations will be August 7, 2017.
We're hoping for a good turnout, would love to see you all… so book your reservations now! The early bird catches the worm! Remember we are still looking for donations to make our event special and a successful reunion. Any questions contact Iris Kikuchi, (702) 480-1931 or email RHSClassof77_40th@yahoo.com Hope to see you all there!